Last month I made several trips to the
Fra Angelico
exhibition at the Met, The exhibition is now over but the link above to the Met has some images and information on the catalog.
One of my favorite paintings was
The Last Judgment: Paradise
, (1435-40, Tempera on panel, 40-1/2 x 11-1/8 in.) The painting is a difficult size 40.5 x 11 inches or 3.6 to 1 height to width ratio. Tall and skinny might not be so bad for an abstract painting or one with just a single image but "Paradise" has 32 figures in it. I was talking with a couple from Philadelphia about the composition, about how geometrically structured it looked. Yesterday, still curious about this, I took a closer look and made a diagram of the composition.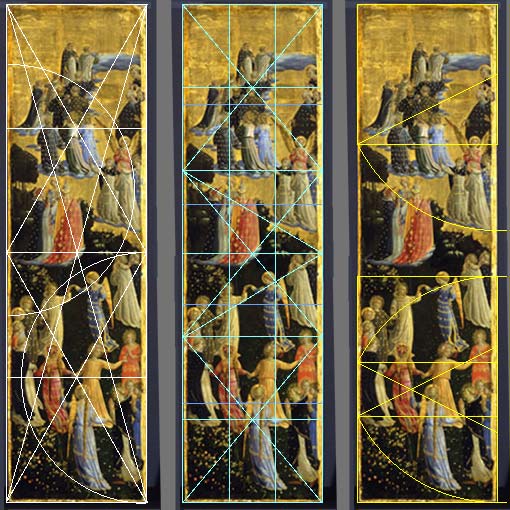 Legend:
Left: The panels height is divided by 1/2 and 1/4 and the diagonals.
Mid: The cyan lines are the 1/3-2/6 divisions and the diagonals.
The blue lines are the 1/5 divisions.
Right: The yellow lines are squares with the height equal to the panels width.
The arcs are a method used to geometrically construct the golden section (1.618)
I found the paintings surprisingly modern looking, Pope Pop.